Sicily Food Facts and Unique Dining Habits
Sicily is a region that boasts a rich and varied cuisine.
For those looking to explore the heart and soul of Sicilian food, it's essential to understand the region's unique dining habits. From the importance of family meals to the influence of Arab and Norman conquerors on traditional recipes, there is so much to discover.
Let's delve into some fascinating Sicily food facts and provide insights into the local food traditions that make this region unique.
TABLE OF CONTENTS
Breakfast ritual in Sicily
In Sicily, breakfast sets the tone for the day ahead! The typical time for breakfast is between 7:00 am to 9:00 am, and whether enjoyed at home with family or at a local café with friends and colleagues, it usually starts with a coffee and something sweet.
During the summer, the breakfast table is often graced with fresh seasonal fruits, such as peaches, cherries, apricots, and croissants filled with marmalade, jams and cream. Granita, a refreshing slush-like drink or sorbet, occupies a privileged position in the heart of the Sicilians, especially in Easter Sicily, from Catania to Messina, where you can find the most delicious one. Granita comes in different flavors, from almond to pistachio, from coffee to chocolate, and then a wide range of fruit such as mulberry, peach, fig, lemon, and orange. Granita often comes with the typical brioche "col tuppo" and a drizzle of whipped cream.
In the winter, the breakfast spread may include warm and comforting dishes, such as hot chocolate and cappuccino, and a variety of pastries such as raviola with ricotta cheese, iris and graffe.
If you order a latte in a Sicilian cafeteria and nobody understands you, call it cafè-latte; that is what we call it in Italy.
Breakfast in luxury hotels will be a mix of sweet and savory choices, so you may have the chance to taste the round-shaped brioches filled with excellent fresh ricotta cheese and some local cold cuts.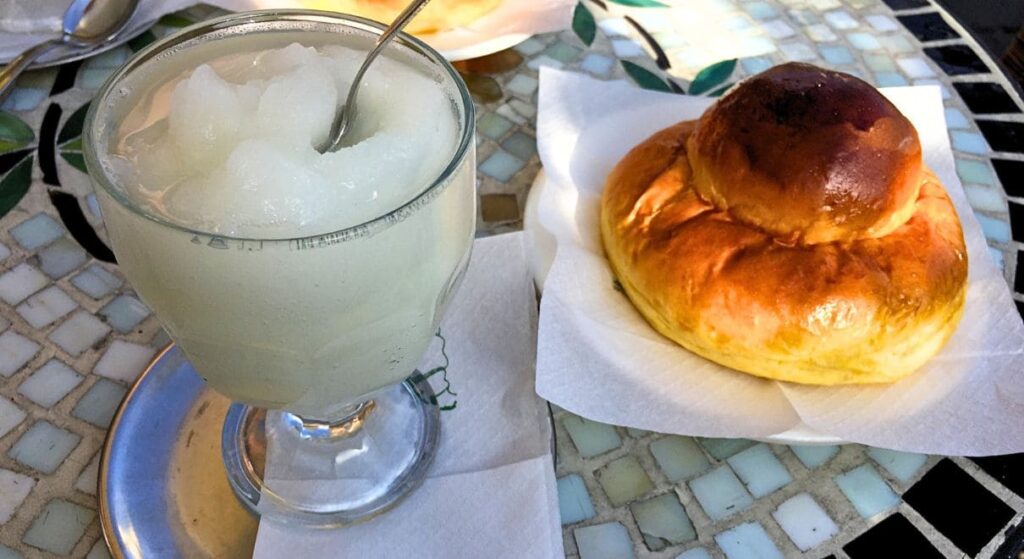 Lunch in Sicily
Modern Sicilian life sees lighter lunches, but the preference remains for home-cooked meals whenever possible. Sicilian cuisine is also closely tied to the seasons, with dishes varying based on what is locally available at different times of the year.
Lunchtime is a sacred time of the day, and lunch deserves a break, so in smaller towns, you will probably see many shops close for lunch for an afternoon siesta, especially in summer.
Health-conscious visitors will be delighted with the abundance of fresh vegetables and fruit available in Sicily, with some types that are peculiar to the region: violet eggplants from Agrigento, artichokes from Niscemi, onions from Giarratana, small, rounded tomatoes from Pachino, capers from Pantelleria to name a few.
A refreshing option is a distinctive fennel, olive, and orange salad drizzled with olive oil.
If you like the idea of learning how to use fresh vegetables and fruit in Sicilian style also at home, you can try a private hands-on cooking class which is always an amusing activity to try.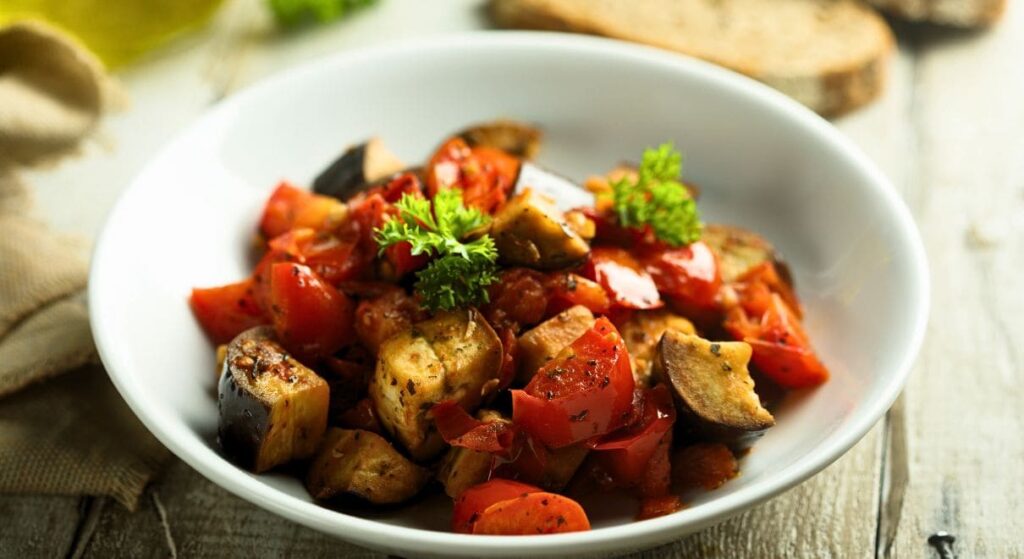 Unique flavors and unusual ingredients
The tantalizing allure of Sicilian cuisine is partly due to its diverse array of spices and distinct flavors, infusing each dish with the essence of the island's vibrant culture and rich history.
Some spices and ingredients may be familiar to the international palate, but they are combined uncommonly in Sicily. Some others, traditional of other Mediterranean countries, found a home in Sicily.
Take the Zagara, for example.
The blossom of the bitter orange tree, the Zagara, is deeply interwoven with the cooking traditions of Sicily and used in an array of dishes. It is infused into spirits, vinegar, syrups, cakes, cookies, ice creams, and teas. The traditional Risotto alla Zagara, a unique and delicate dish, enthralls with subtle citrusy undertones. And the bees of Sicily produce a distinct, fragrant honey from these blossoms, a light-colored delicacy treasured throughout the region.
Wild fennel is also used extensively in Sicilian cooking to infuse dishes with its unique, slightly sweet anise-like flavor. You can see wild fennel growing spontaneously in rural areas if you go on a hike. The feathery fronds and wild fennel seeds are used in Sicilian cooking, often in pasta sauces like the classic pasta con le sarde, which is pasta with sardines.
Wild oregano, known locally as origano, is a staple in Sicilian cuisine. It's dried to season everything from pizzas and pasta to grilled meats and fish or tomato salads. You can buy it in sun-dried bunches or small packets if you like it. You'll find it in local markets and shops across the island, reminding you of Sicily's flavors. Remember to store it in a cool, dry place.
Sicilian almonds have a particularly intense flavor. They are used in sweet and savory dishes, from the famous pesto Trapanese, made with tomatoes, basil, garlic, and almonds, to marzipan sweets. It is also used in a drink called latte di mandorla, served cold in summer.
The pistachios grown in the town of Bronte, located on the slopes of Mount Etna, are considered among the best in the world. They are used in a variety of sweet and savory dishes, including a pistachio sauce for pasta, in pastries, and in gelato.
Capers, grown on the islands of Pantelleria and Salina off the coast of Sicily, are tiny buds often preserved in salt but also served fresh. They add a distinctive tangy flavor to pasta, fish, and meat dishes. The cucunci are the caper fruit and are often served during an aperitif.
Breadcrumbs, known as muddica in dialect, play a surprisingly vital role in Sicilian cuisine, far beyond what one might expect. Historically, breadcrumbs were used as a substitute for cheese by poorer Sicilians. Still, over time, they've become a cherished part of the local cuisine in their own right, and you can find them used in a vast array of dishes as an addition to pasta sauces, vegetables, and meat or fish preparations.
We conclude this quick review of the unique Sicilian flavors by mentioning the traditional juxtaposition of sweet and sour. This flavor combination is a testament to the island's historical influences, including the Arab domination in the Middle Ages. Known as agrodolce, it is found in many traditional dishes and is obtained with a combination of sugar and vinegar.
A similar effect is reached by combining pine nuts and raisins, creating a delightful balance of taste and texture. For instance, in pasta with sardines, in stuffing for rolled meat dishes, and in the preparation of vegetables, such as the broccoli arriminati, cauliflower prepared in Palermo with a mix of pine nuts, raisins, saffron, anchovies melt in the pan, breadcrumbs, and a hint of chili.
Street food in Sicily
Lunch is also the right time of the day to taste street-food-style specialties.
In Sicilian culinary tradition, various cooking methods combine to create the rich cultural heritage that is Sicilian cuisine. Among all the others, the smoky arts of grilling and deep frying are the most appreciated ways of cooking. In Palermo, you find kiosks spread around the city cooking traditional street food in one of those two ways – mostly frying!
Deep-fried arancini, versatile rice balls stuffed with meat sauce, butter, or vegetables, are a popular treat throughout Sicily. Interestingly, they take on a rounded shape in the western regions like Palermo, known by the feminine noun of arancina. At the same time, in the eastern parts like Catania or Taormina, they are called arancino, the male variation of the noun, and are somewhat pointed in shape.
If you pop into any café or bar, you will find an incredible variety of what the Sicilians call "tavola calda", warm street food items, of which the arancino is one example. Try it and you will be pleasantly surprised.
In Palermo, don't miss out on sfincione, a unique pizza adorned with tomato sauce, onions, and breadcrumbs, and Panelle, chickpea fritters enjoyed as a sandwich with bread.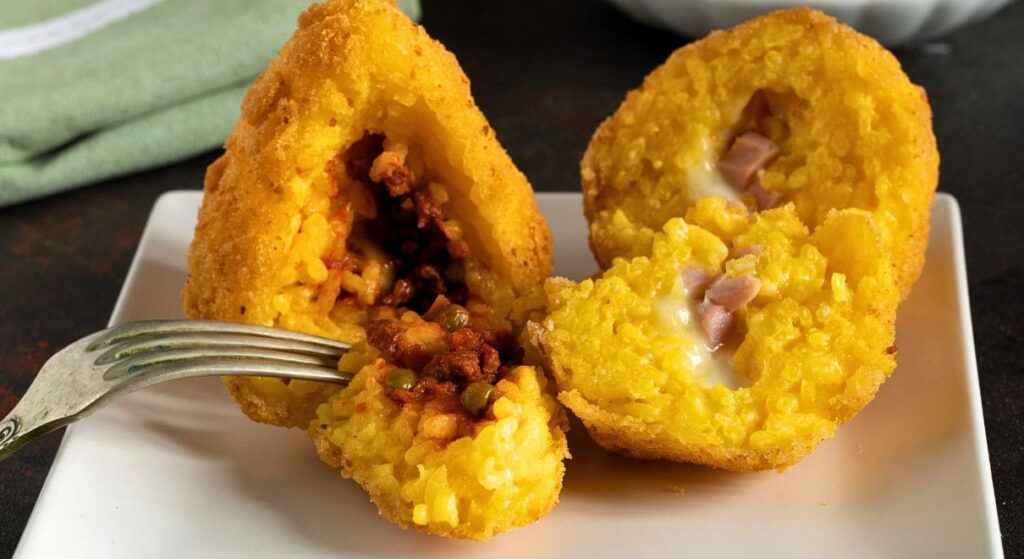 Dinner in Sicily
In Sicily, dinner is the most important meal of the day, and it is a time when families or friends come together to share their day's experiences and bond over delicious food.
Dinner is typically served later than in other countries, usually starting around 8/9 pm or sometimes even later, especially during summertime. So, it might happen that if you book restaurants for an early dinner, you will only find tourists dining at that time of the day!
Like in the rest of Italy, a complete meal in Sicily can consist of an appetizer, pasta dish, main course, and dessert. If this is too much for you, do not feel obliged to follow the old rules. Today, meals are lighter in Sicily, you can opt for a two or three-course menu, and nobody will get offended.
Start your dinner with an antipasto, an appetizer often consisting of cured meats, cheeses, olives, fried vegetables, and dried tomatoes.
A renowned Sicilian antipasto dish is caponata, a delicious blend of fried eggplants, celery, pine nuts, capers, and small tomatoes dressed in a sweet and sour sauce. With many regional variants, this dish can often include other vegetables.
Now, for the main course, regional specialties abound.
In Trapani, you can indulge in the famous Couscous with fish soup, a delightful mix of Arabic and Italian cuisine, or you can taste the Busiate al pesto Trapanese, twisted pasta with tomato, almond, and basil sauce.
In Palermo, don't miss the Pasta con le sarde, pasta with sardines, or the Anelletti al forno, ring-shaped pasta baked in the oven in layers like a lasagna.
Try the Pasta alla Norma in Catania with eggplant, tomato sauce, and ricotta salata cheese.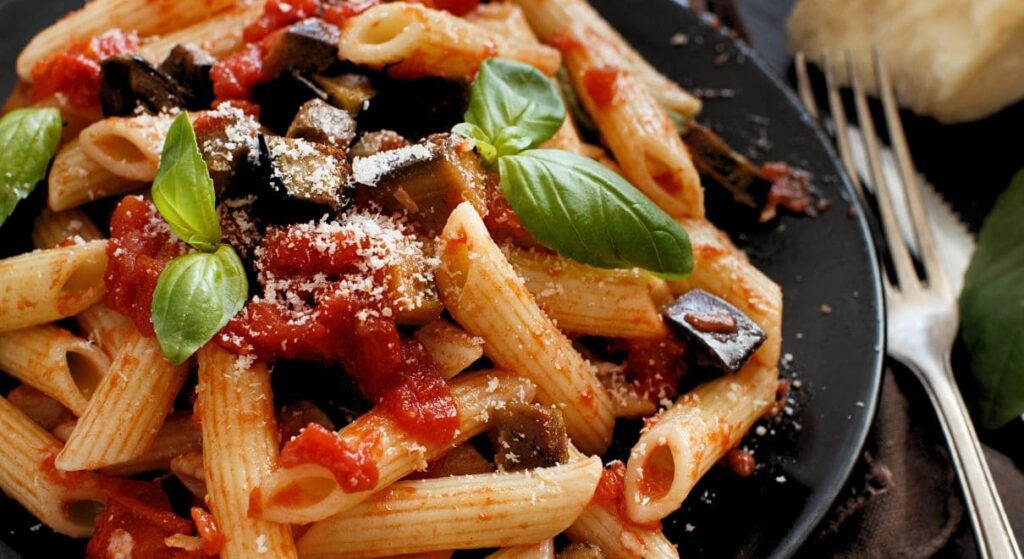 In Syracuse, taste the Involtini di pesce spada, swordfish rolls, and in Agrigento, the Falsomagro, stuffed beef rolls.
You will also find excellent fish dishes all over the island, as fish is an essential ingredient in Sicilian cuisine: swordfish, anchovies, tuna, and sardines are just a few examples of the fish commonly used in Sicilian cuisine.
Some of Sicily's most popular fish dishes include the Mazara red prawns, the aromatic spaghetti with clams, the succulent swordfish stew, and the delightful sarde a beccafico, sardines stuffed with breadcrumbs, pine nuts, raisins, and cheese.
You will find hundreds of variations of these traditional dishes, sometimes with a modern twist, in fine dining restaurants all over Sicily.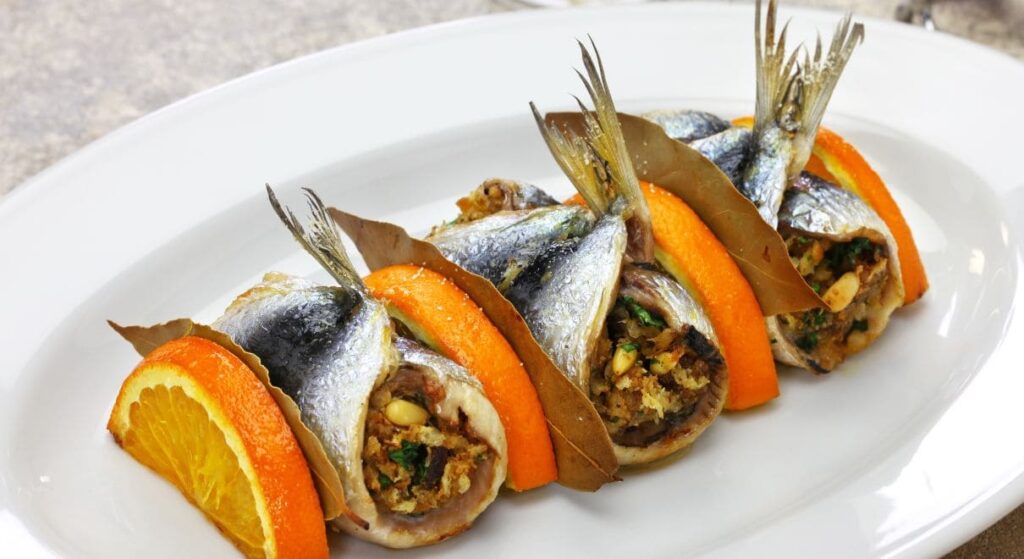 Sweets in Sicily
Sicilians are undoubtedly gluttonous, and the island's sweets reflect its diverse cultural influences, including Greek, Roman, Arab, and Spanish, with exquisite use of ricotta cheese and fresh fruit.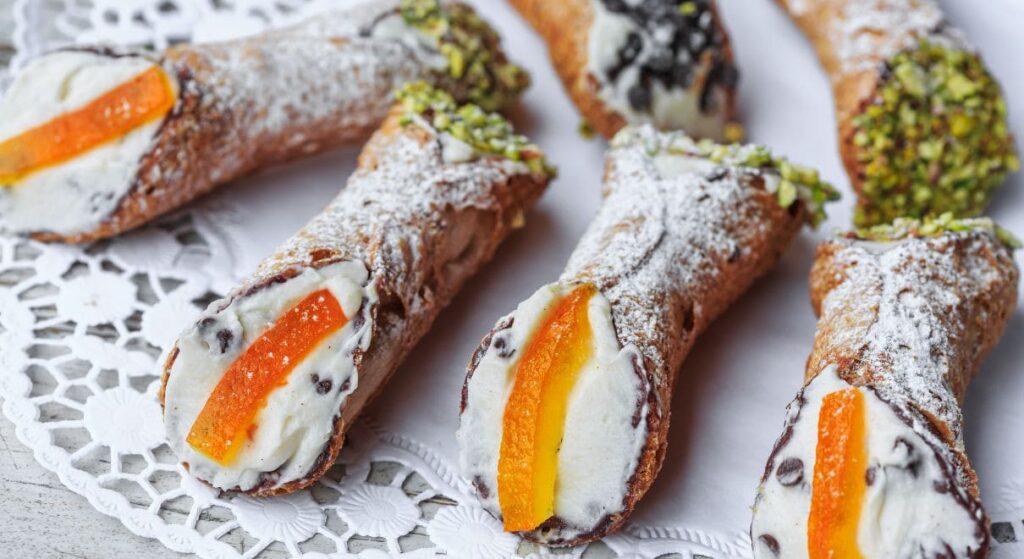 The best, world-renowned, Sicilian desserts are the Cassata, a sponge cake soaked in liqueur and layered with ricotta cheese, marzipan, and candied fruit, and the Cannoli, crispy fried pastry tubes usually filled just before being served with sweet ricotta cheese and candied fruit.
The Martorana fruit consists of almond paste shaped into the form of fruits and painted in bright colors to resemble natural fruit.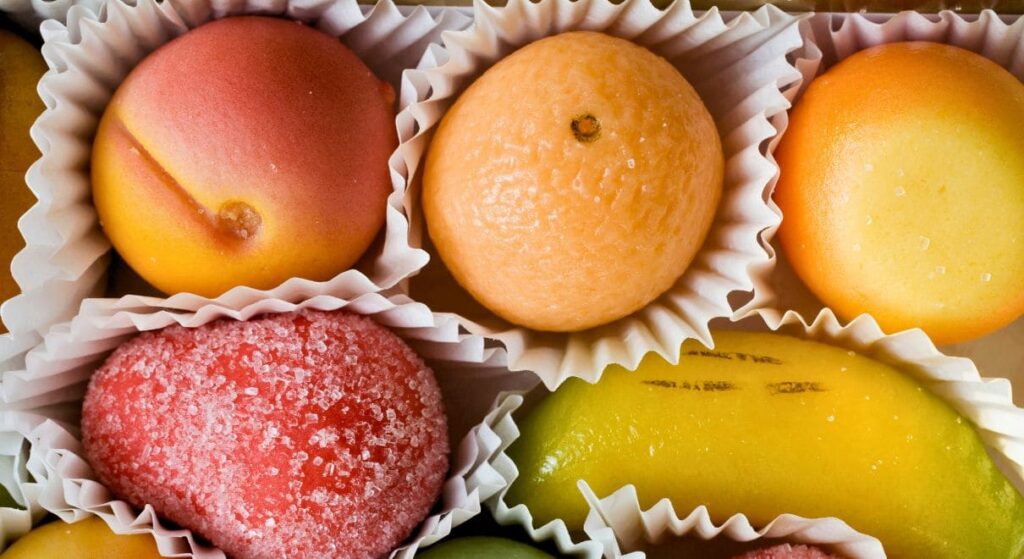 The Buccellato is a traditional Sicilian sweet bread enjoyed for centuries, usually prepared during Christmas time, a shortcrust pastry filled with dried figs, sultanas, almonds, and orange peel.
The best sweets to accompany your coffee break in the morning or afternoon are the mouth-watering Iris, a round and fluffy pastry filled with a creamy mixture of sweet ricotta and melted chocolate in Catania is often filled also with pistachio. Or you can try the Genovese, a soft, spongy cake with a delicate lemon flavor, often decorated with candied fruit or almonds, and the Regina cookies covered with sesame seeds, crunchy on the outside and tender on the inside.
Then, of course, you cannot miss the granita, a refreshing, shaved ice dessert made with fresh fruit or coffee, and the gelato served in a round brioche. Try some of the best Sicilian flavors made with local almonds, pistachios, or mulberries. It is always the right time for a delicious granita!
Tipping etiquette in Sicily
Tipping is a common practice in Sicily. Generally, it's customary to leave around 10% of the total bill as a restaurant tip. Instead, it's more common in bars and cafes to round up to the nearest euro or leave a few coins as a small token of appreciation.
However, tipping is not mandatory, as service is always included even when you do not find it mentioned on your bill.
If you read coperto on your bill, note that this is a small charge for providing a table setting, including plates, silverware, and bread. This fee is typically a few euros per person and is not a tip for the waiter.