The multicultural charm of Trapani in one day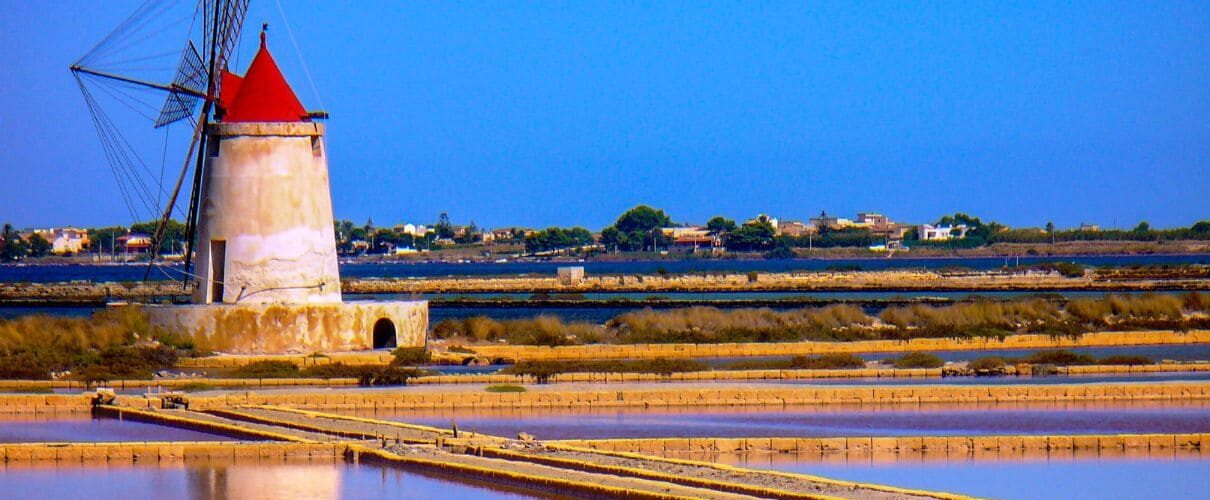 What to see in Trapani in one day? The discerning travelers do not need more than one day to recognize the charming mix of cultures that have influenced Trapani for its crucial geographical position at the center of the Mediterranean Sea.
In 2005, Trapani changed for the better thanks to the extensive renovations undertaken given the prestigious Louis Vuitton Trophy, a part of America's Cup World Series, which had to take place in Trapani in September.
Since then, the city has been on the map as a world-class tourist and sailing destination worth visiting for its rich history, stunning coastline, and vibrant culture.
Following our tips, you can uncover this timeless, intriguing destination on the north-western coast of Sicily in just one day of exploration.
TABLE OF CONTENTS
What to do in Trapani
When pondering what to do in Trapani, consider spending the day with this program:
– explore its beautiful old town
– savor the delightful local cuisine for lunch
– visit Trapani salt pans at sunset
– end the evening with a sip of sweet Marsala wine before returning to your hotel or yacht
So, is Trapani worth visiting? Absolutely!
And Trapani is easy to reach by plane, private jet, or private yacht. You can also get to Trapani in one hour drive from Palermo.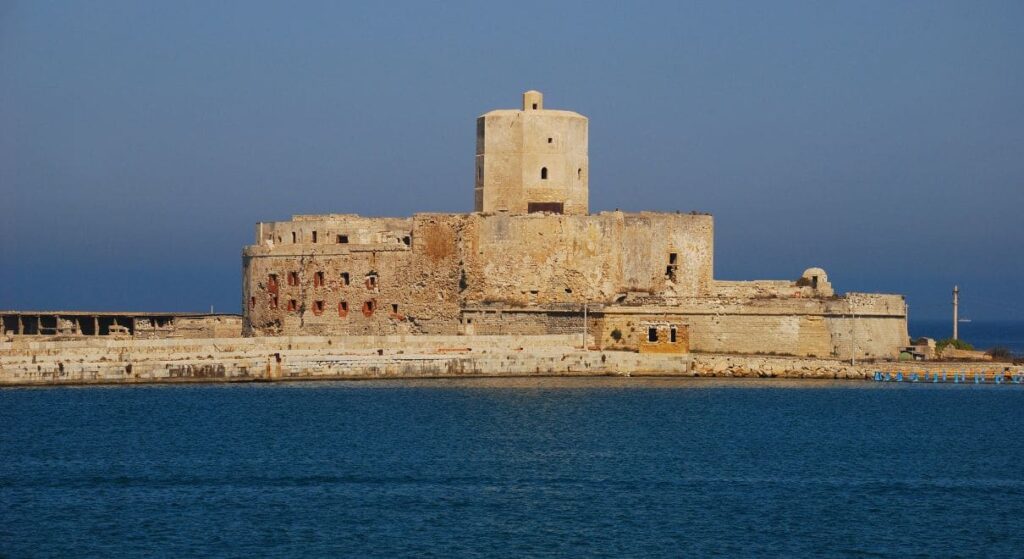 Old town Trapani
The old town of Trapani is a pedestrian-friendly area adorned with splendid architecture in a mix of styles. All around, the predominant color is cream white.
The oldest streets where since 1200, the locals used to go walking are Via Garibaldi, Via Torrearsa, and Corso Vittorio Emanuele.
Throughout this itinerary, take the time to observe the elegant balconies and historical plaques and try to venture into a few side streets. The characteristic of Trapani's historical center mainly lies in its charming atmosphere.
And if you walk in the old town on a summer evening, you will enjoy the warm lighting of the streets and the many cocktail bars and restaurants with al fresco dining.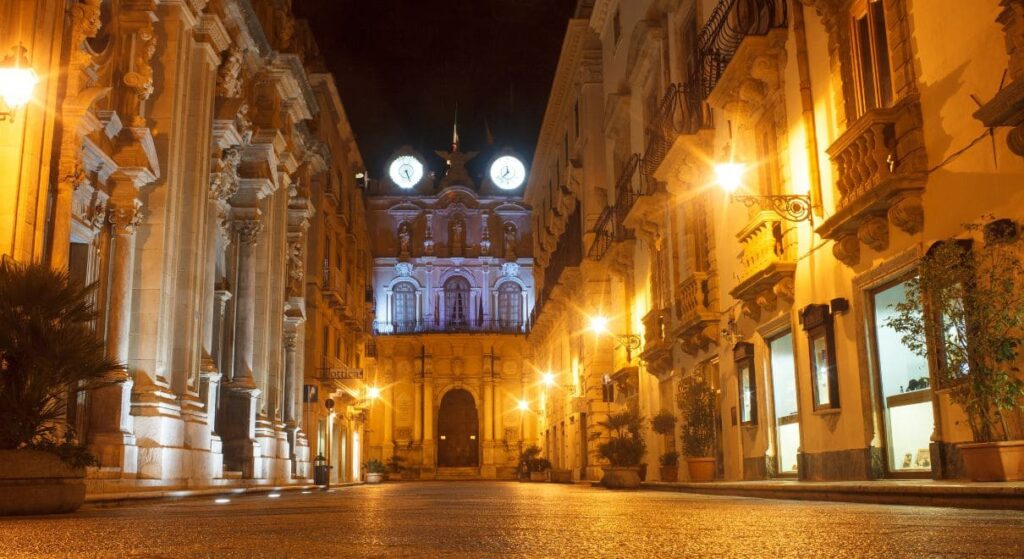 What to see in Trapani
You can start your walk in the old town from Via Garibaldi, one of the central axis of Trapani's historic center.
The street dated back to the 1300s and was meant to host civil and religious power structures. Here you are welcomed by beautiful buildings, like Palazzo Burgio of Barons of Xirinda, a sixteenth-century residence and headquarters of Banco di Sicilia.
Continue to Via Torrearsa, where you encounter "Porta Oscura," an archway that was part of the medieval defensive walls, the oldest gateway still existing in the city. Next to the arch, you will also see the Clock Tower, an iconic city landmark that reveals all its charm when lit at night.
Now, walk until you reach the intersection with Corso Vittorio Emanuele, a street with noble residences developed in the 17th century. Approximately mid-way on this street, you can admire the majestic Trapani Cathedral, Cattedrale di San Lorenzo.
The historic center also houses architectural gems such as the churches of San Domenico and Sant'Agostino, and the remnants of the Chiaramonte palace, which reflect the Gothic-floral style born in Sicily under the powerful Chiaramonte family.
Also worth mentioning is the Church of Purgatorio. The church is renowned for the twenty groups of Mysteries – statues used in the Procession of the Mysteries. This historic procession took place over 400 years during Holy Week and features a twenty-four-hour-long reenactment of the Via Crucis.
Continue walking along Corso Vittorio Emanuele to the extreme western tip of Trapani and reach the Ligny Tower, a coastal watchtower built in 1672 to protect Trapani from Muslim pirates. Today it hosts a small museum, the Museo Civico Torre di Ligny.
From here, you can enjoy the picturesque views of the Mediterranean, watch the fishing boats, and take a leisurely break at one of the many restaurants for some fresh seafood.
Trapani Salt Pans
Trapani is famous for its salt pans, part of a WWF National Reserve. The area is of high environmental value, as it hosts a remarkable biological diversity, including rare plants and animals.
In fact, Trapani salt flats create a habitat that attracts 170 species of migratory birds, among which flamingos.
While spring and autumn are the best months to observe migratory birds, you can watch the salt harvesting activity from July to September.
Additionally, the reserve houses the Salt Museum in an old mill, showcasing traditional salt production tools.
We suggest you reach Trapani salt pans by a chauffeured car and have a private environmental guide to learn more about the local flora and fauna. You will need comfortable shoes, a hat, and sunglasses. Photography enthusiasts will love to visit the salt pans at sunset when the salt flats and the sea are tinged with red.
What to eat in Trapani: Gastronomic Delights
An emphasis on fresh seafood characterizes Trapani cuisine.
A must-try dish is "Couscous alla Trapanese," a unique take on couscous which reflects Trapani's historical ties with North Africa. The preparation involves flavoring steamed semolina grains with a rich fish broth, usually made with grouper, snapper, or bream and seasoned with aromatic herbs and spices.
Vegetarians can appreciate a different version of couscous with vegetables.
Every year in September, Trapani hosts the "Cous Cous Fest," a festival that celebrates this dish through culinary competitions, tastings, and cultural exchanges with chefs from traditional couscous-making countries.
Another dish deeply rooted in Trapani's culinary heritage is "Busiate al Pesto Trapanese," a traditional, twisted pasta served with a pesto made from almonds, tomatoes, garlic, and basil.
Before you leave Trapani, indulge in a sweet treat such as the local Cannoli, crispy pastry tubes filled with sheep's milk ricotta, usually bigger than in other parts of Sicily, and cassateddi, small fried raviola stuffed with sweetened sheep ricotta and chocolate drops.