Mediterranean vacation: things to do in and around Palermo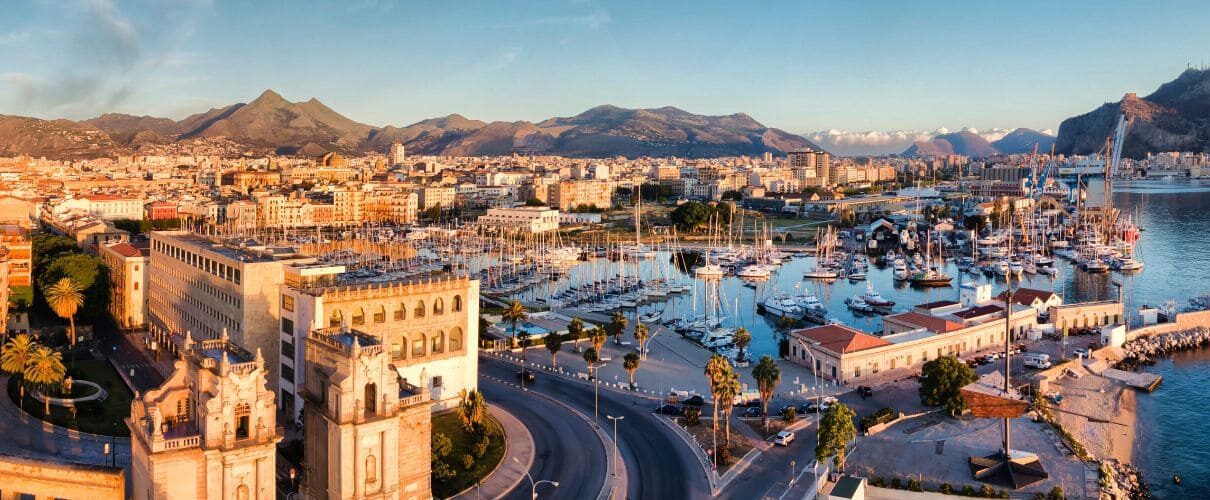 Boasting a rich history, vibrant culture, and unparalleled cuisine, Palermo, the capital of Sicily, is the ultimate Mediterranean vacation destination for travelers seeking an authentic and enchanting experience.
If you are planning your first visit to Palermo or have just a few hours to dedicate to the city, you will find all you need to know in our article on What to see in Palermo in one day. It guides the must-sees from the Palatine Chapel to the Cathedral.
If this is not your first time in town, or you are preparing for a few days in the area, this is for you. In this article, we have selected things to do in Palermo and its surroundings that allow you to explore unique corners of the city and the enchanting nearby towns.
Prepare to venture beyond Palermo must-sees and consider planning a guided tour by chauffeured car to reach every corner in and around the city with the best comforts.
TABLE OF CONTENTS
Zisa Palace (UNESCO Site)
We start this exploration from the Zisa, a majestic palace known as al-Azīzah, which draws inspiration from Islamic design principles, featuring horseshoe arches, geometric patterns, and ornamental details that embody beauty and refinement.
The palace was the royal summer residence in medieval times. Right in front of the court is a wide garden, Giardino della Zisa, offering a serene oasis in the heart of the bustling city.
What is special here: The building's ground floor houses the central Sala della Fontana, Room of the Fountain, where the monarch held court. This room is particularly distinctive with its square layout and vaulted ceiling. The fountain is topped by a mosaic panel on a gold backdrop. Water trickles from it, flowing through a central channel and into a fishpond.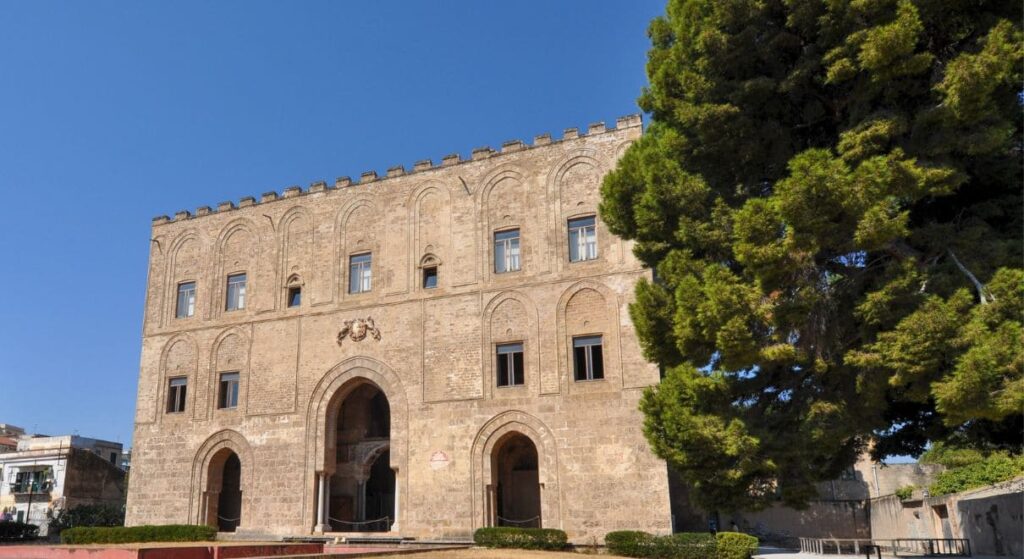 Botanical Garden
The Palermo Botanical Garden, founded in 1779, serves as both a botanical garden and a research institution. Walking
A walk in the garden is a serene and enchanting experience. As you explore its winding pathways, you are greeted by a display of diverse plant species worldwide. Among its prized possessions is a stunning collection of cacti and rare and endangered species of trees, shrubs, and flowers.
You can stroll amidst the lush greenery, which today is a delightful destination for nature enthusiasts and those seeking a peaceful escape.
It was initially just a small garden dedicated to medicinal plants, and over time, it expanded and now features various sections.
The park also houses the Herbarium, with extensive collections of Mediterranean plants and a gene bank focused on preserving endemic and endangered seeds.
What is special here: Choose the botanical garden for a very relaxing walk in nature and stop for an Italian espresso at the bar on the premises before you continue your exploration of Palermo, maybe with a visit to the nearby Palazzo Abatellis.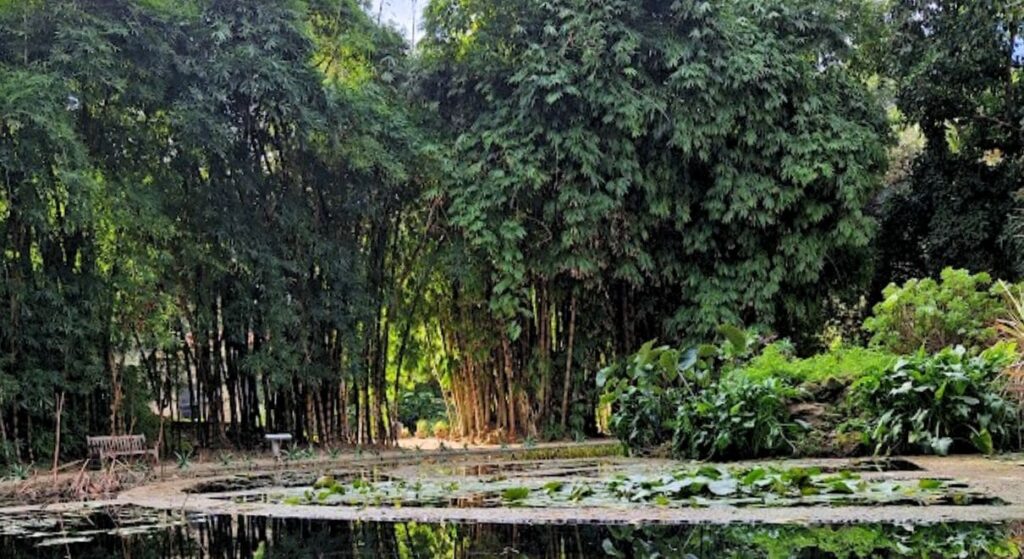 Palazzo Abatellis
This gothic-Catalan building hosts the Gallery of Art and is located in the heart of Palermo's center, just a short walk from the Quattro Canti.
Originally built as a residence for the Abatellis family, it was then turned into a female monastery, and, after the significant damage suffered during an Allied air bombing in 1943, it was restored and repurposed as the Gallery of Medieval Art for the Sicilian region.
Palazzo Abatellis is a perfect choice whether you are planning a cultural holiday, as the Gallery includes precious ancient pieces of art and temporary exhibitions worldwide.
What is special here: Make sure not to miss the two most iconic masterpieces: the Virgin Annunciate, a beautiful painting by Antonello da Messina, and The Triumph of Death, a fresco that might have inspired Guernica, one of Picasso's masterpieces.
Take a moment to pause in the Palazzo's tranquil courtyard and then go to Cioccolateria Lorenzo, a tiny chocolate shop a stone's throw from the Palazzo Abbatellis, where you can taste artisanal chocolates and cakes.
Antonino Salinas Regional Archeological Museum
The structure is inherently beautiful, and while the number of objects on display may be limited for space reasons, each one is exceptionally valuable and precious. Your journey through time begins as you enter the magnificent cloister of the Archeological Museum and delve into the mysteries of ancient Sicily. The collection spans across the ages, unveiling the island's rich history from prehistoric times to the grandeur of the Roman Empire, showcasing the exceptional craftsmanship and artistic genius of its past civilizations.
Visitors can explore a diverse range of underwater artifacts, a Phoenician section showcasing two large anthropomorphic sarcophagi and sculptures of gods and Phoenician votive stelae.
What is special here: The museum's prized treasures include the east pediment of Selinunte with the Gorgon, the beautiful metopes with mythological reliefs, and the Palermo Stone, an enigmatic relic known as the Royal Annals of the Old Kingdom of Ancient Egypt. Its presence in Palermo remains a mystery, but it stands as one of the oldest surviving historical texts from Ancient Egypt, an astonishing testament to the enduring legacy of a bygone civilization.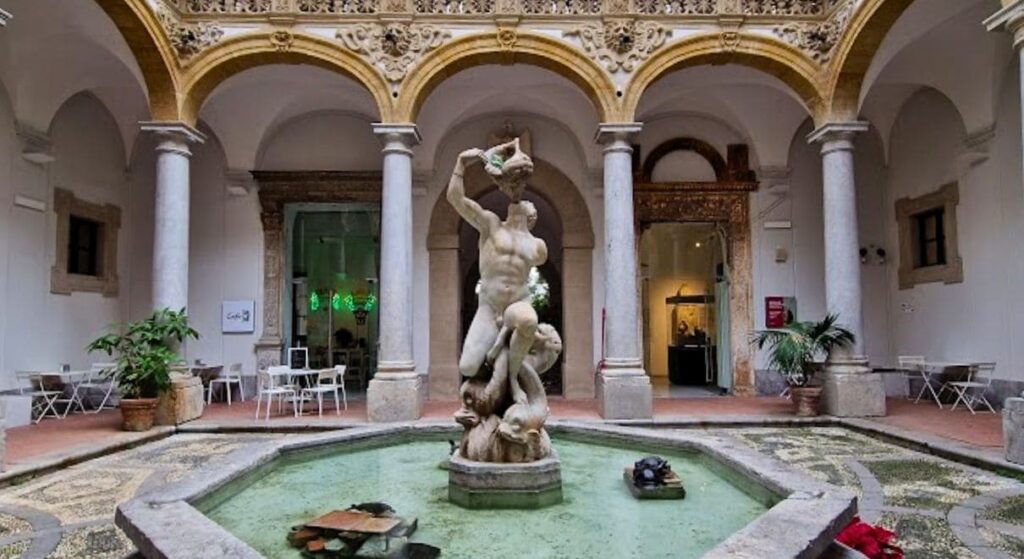 Palermo's Elite: Private Tours of Aristocratic Splendor
Strolling along the city's cobbled streets, you will certainly notice the grand palazzos that once housed the aristocrats and nobles. Engaging in art, culture, and grand receptions, Palermo's aristocracy lived a life of luxury and refinement that, today, we can savor through exclusive tours of these historic residences.
A life that also captivated the movie and TV fiction industry, which has found the city to be an attractive setting for various productions.
In addition, Sicily is also well known for its vast food tradition, so once in Palermo, it is natural to want to learn more about the secrets of its cuisine.
Cooking experience in a noble palace in Palermo
Palermo can offer something different from other cities, an experience designed for your personal needs combined with the characteristics of the city. Something that can be reserved for a few people only.
What is special here: This peculiar culinary experience that we have selected elegantly marries the noble heritage of Palermo with the rich, popular traditions of the city. You first join the chef on a culinary adventure through a vibrant Palermo market as you gather fresh ingredients for your personalized cooking lesson. Then continue the cooking experience in a noble Palermo palace.
Post-lesson, luxuriate in a delectable lunch in one of the palace's majestic dining rooms. Cap off this unique experience with a private palace tour, taking in its splendor as the perfect ending to a culinary journey.
Read more on this experience of Sicilian cuisine at a noble Palazzo in Palermo, and you will certainly love it.
Movie stars and Aristocracy: private visits to exclusive mansions
The Sicilian aristocracy must have fascinated the cinema and television fiction world that selected noble mansions and period palazzos to shoot some famous scenes.
Indeed, in Palermo, you can visit the majestic, noble Rococo palace used for the filming of the grand ballroom scene in Luchino Visconti's film, "The Leopard," based on a classic Italian novel, which has also been just turned into a limited series for Netflix.
The original movie with Alain Delon and Claudia Cardinale was shot in an architectural masterpiece built in 1780, whose owner was Prince Gangi. Today the palace is only open to private visits.
One more fabulous mansion deserves a visit, the lavish villa used as a backdrop for one of the episodes in the Emmy Award winners White Lotus 2.
What is special here: Even though the Renaissance villa is enriched with Murano chandeliers and gold-framed paintings, we invite you to focus your visit on its 20-acre gardens, which instead date back to the late 1800s. Known as one of the most beautiful historical gardens in Europe, it features a variety of exotic plants, ancient trees, and ornamental fountains.
The Grandeur of Teatro Massimo Opera House
Teatro Massimo is one of the largest in Europe, in Neo-Classical style. Its interiors reflect what you would expect from a historical theater in Italy: lush red velvet, golden details, and intricate frescoes.
Consider spending your evening at Teatro Massimo. You might have a chance to enjoy world-class opera or ballet performances. Teatro Massimo showcases Italian artistic tradition and international artists.
What is special here: Teatro Massimo is not just a place for evening performances. It also opens for guided tours during the day. These tours offer an opportunity to explore the auditorium, the royal box, and the backstage areas. You will also have the chance to test firsthand the impressive acoustics of the theater.
A curiosity about Teatro Massimo is that the film director Francis Ford Coppola used the theater to shoot the grand finale of "The Godfather Part III" film.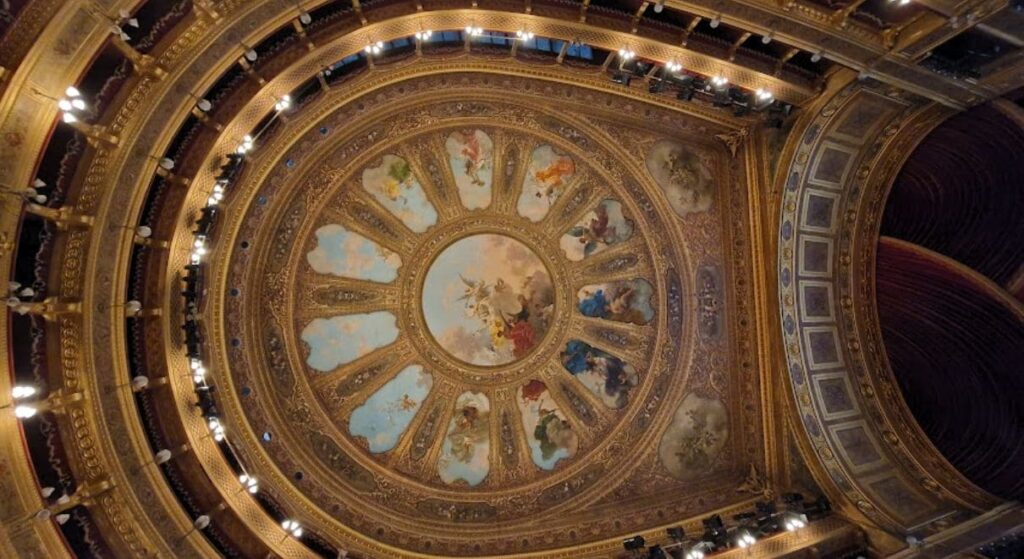 Premium day trips from Palermo
The exploration of Palermo can be easily combined with a half or full-day trip outside the city. The region brims with appealing destinations, and many sites might make good day trips from Palermo to Trapani, for example, Marsala, Erice, or even farther to Agrigento.
Here, we are concentrating on attractive nearby destinations that are part of the province of Palermo and don't require lengthy car transfers, allowing you to soak in the history, culture, and breathtaking landscapes easily and conveniently.
For those who wish to explore further afield in style and comfort, options include private yacht tours and cruises or helicopter transfers. Alternatives to car transfers that ensure a remarkable Sicilian adventure, and during the summer, allow you to avoid traffic and crowd.
Mondello
Mondello, the picturesque seaside village of Palermo, is renowned for its pristine golden sands and crystal-clear turquoise waters.
It is good to note that finding a good spot in Mondello Beach can be challenging in summer. Booking sunbeds in advance is recommended to ensure a pleasant experience.
What is special here: At night, the illuminated shoreline and palm-lined promenade create a romantic ambiance. It is a perfect evening stroll watching the Mediterranean Sea.
The nightlife is vibrant. Beachside bars and restaurants open at sunset and offer aperitivo. There is a variety of culinary delights and refreshing cocktails to enjoy.
Mondello at night offers a captivating atmosphere. You can relax by the water's edge, enjoy live music, or have a delicious seafood dinner. The atmosphere is charming at dusk.
Monreale
In a thirty minutes drive from Palermo, you can reach Monreale. Nestled atop Monte Caputo, the city overlooks the fertile valley known as "La Conca d'oro." The city thrives as a hub of agricultural production with its abundance of orange, olive, and almond trees.
The name "Monreale" derives from the combination of "monte-reale," meaning "royal mountain," which originated from the construction of a royal palace, likely corresponding to the location of the present-day town hall.
The town is world-renowned for its Cathedral. In walking distance from the Cathedral lays the Benedictine Cloister. Once inhabited by Benedictine monks, the cloister is renowned for its Romanesque architecture, featuring over 200 columns adorned with mosaics, Arabesque engravings, and biblical scenes. The cloister encompasses a quadrangular layout, with a central English-style lawn, four surrounding pathways, and a circular fountain known as the Fontana del Re.
While the Cathedral and the Cloister are undeniably the highlights, Monreale offers visitors a pleasant atmosphere. Don't miss the opportunity to explore the charming streets lined with quaint shops and traditional Sicilian restaurants. Taste freshly squeezed citrus fruits, the Monreale famous bread, the local wine, and the Buccellati, traditional cookies made with a sweet pastry dough and filled with a mixture of dried fruits, nuts, honey, and spices.
What is special here: The Duomo, a magnificent, impressive cathedral, a Norman-Byzantine structure of historical significance. The cathedral, included in the UNESCO World Heritage Site "Arab-Norman Palermo and the Cathedral Churches of Cefalù and Monreale," forms an essential part of the town's archdiocese. Its architectural grandeur and impressive façade draw visitors from far and wide.
Cefalù
Outside Palermo lays Cefalù, a picturesque town nestled along the northern coast of Sicily, exuding an irresistible charm.
The destination is trendy for its extensive golden shores and crystal-clear water, with a refreshing breeze constantly coming from the sea.
Its historical center, a labyrinth of narrow cobblestone streets and quaint alleys, transports you with its timeless atmosphere.
As you meander through its lanes, you'll discover inviting trattorias serving mouthwatering local cuisine. Do not forget to taste a mulberry granita before you leave for your next exploration.
What is special here: The city has Greek origins, and it was under the Norman king Roger II that the construction of the magnificent Norman-style Cathedral was initiated. This cathedral is also part of the UNESCO site heritage, together with the Cathedral of Monreale and the Arab-Norman structures in Palermo.