Private luxury tours of Sicily
If your dream is turning your journey to Sicily into a tailor-made experience created just for you, a Sicily luxury tour could be what you are looking for. L'Isolabella, luxury tour operator, provides private tours of Sicily combining the perks of a wide range of luxury services to an approach focusing on the customer's expectations.
Whether you are looking for a five-star experience with a Michelin starred chef or and old fashioned city centre tour on board of a vintage car you can contact our team and plan your next luxury tour of Sicily!
Each of our Sicily luxury tours is one of a kind: tell us about the experience you want to live and we'll create a custom trip plan for you!
What do you need during your private tour of Sicily?
Think about what you can enjoy during our Sicily luxury tours:
The best luxury hotels in Sicily or the most intriguing boutique hotels in the countryside;
The best Michelin starred restaurants or the cosiest family style trattorias;
Chauffeur-driven tours on board of our latest model Mercedes E, S and V Class series pampered by our amazing fluent English-speaking driver/guides or the pleasure of travelling freely with the best rental car if you feel comfortable driving in a foreign country;
A lavish superyacht or an adventurous sailing boat to circumnavigate Sicily, discover the Aeolian Islands, combine a trip at sea including the Amalfi Coast, Capri and Sicily or even planning to cross the Channel of Sicily and explore Malta
Our passionate fully authorised local guides who, with their knowledge and sympathy, will make you love Sicily even more and discover stories, anecdotes, myths, legends and places full of enchantment but also full of strong contrasts;
A tailor-made lifestyle experience:

An adventure on Mt Etna with a private jeep

A helicopter flight to admire the central crater of Mt Etna and Taormina from the sky

A day out at the sea on board of one of our luxury yachts or sailing boats

A romantic aperitif at the sunset sailing along Taormina bay

A private visit at a noble palazzo or at a Sicilian style garden

A cooking class with a Michelin starred chef

A visit at the market and a hands-on Sicilian style cooking class chez a local

An unsual picnic on the mountain or at a beach

A visit and wine tasting at one of our beautiful top wineries

A ceramic lab with a ceramist in Caltagirone

A photography class with a top local photographer working for Getty Images

A self-driven Sicily tour on board of a Porsche

A day tour of Taormina and surrounding on board of a Fiat 500 vintage car
Let us know what you have in mind for your private tour of Sicily, we'll try to make it happen!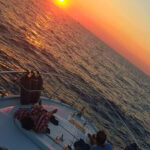 Ram and Khrisna and their second honeymoon in Sicily
In 2017, Ram, an important businessman of Indian origins living in New York, reached out to organize a short break in Sicily for Khrisna, his wife, and him very close to his 50's birthday he was going to celebrate that  same year in July.
He dreamed the experience to be something very similar to a "second honeymoon", romantic, secluded, off-the beaten path.
We opted for a couple of days in Noto, followed by a few days in Panarea, one of the seven Aeolian Island including:
An cosy suite room at a luxury small boutique hotel in Noto
An amazing sea view suite at Hotel Raya in Panarea
All transfers by helicopter flights
A private visit, wine tasting and lunch at top boutique winery in Salina
A day on board of a luxury Ferretti yacht with open bar and aperitif at the sun set on his birthday.
We gave him a selection of top Sicilian wines as a present for his birthday.
Ram and Khrisna appreciated every single detail of the luxury private tour we designed for them and were so grateful they even invited us on his super exclusive birthday party he organized a few days later!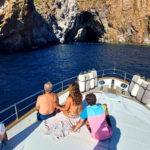 Marianna and her family luxury tour of Sicily
At the beginning of 2022, Marianna got in touch as she wanted to explore the possibility of bringing her family of three to Sicily. She wanted this trip to be a family reunion and a special experience for husband and wife and their fourteen years-old son. We had a few chats on the phone to understand their expectations and to focus on the dates they wanted to travel which she set as the last 10 days of July and early August. They also wanted to combine a land and sea experience to enjoy the sea without the crowds of beaches during the peak season.
We designed for them a 15-days chauffeur-driven private luxury tour of Sicily & the Aeolian Islands including:
Amazing suite rooms in some of the most exclusive properties such as the Belmond Villa Sant'Andrea in Taormina, The Rocco Forte Villa Igiea in Palermo, the Villa Athena in Agrigento, the Ortea Palace in Syracuse and the Therasia Resort in Vulcano
the best local guides around the main cultural sites
a 4-day-cruise of the Aeolian Islands on board of a RAFAELLI ONTERA 70 motor yacht
a 4×4 Mt Etna safari tour with visit, wine tasting and lunch at one of the most important historic wineries on Mt Etna.
During the Aeolian Islands cruise she texted "Thank you for the most amazing experience of the islands!" and on her way back home "Hi Doriana, Sicily was so beautiful and rich in history! All the accommodation exceed our expectations and I would love to connect! Talk soon."
Fill in the form and tell us about your idea of Sicily luxury tour!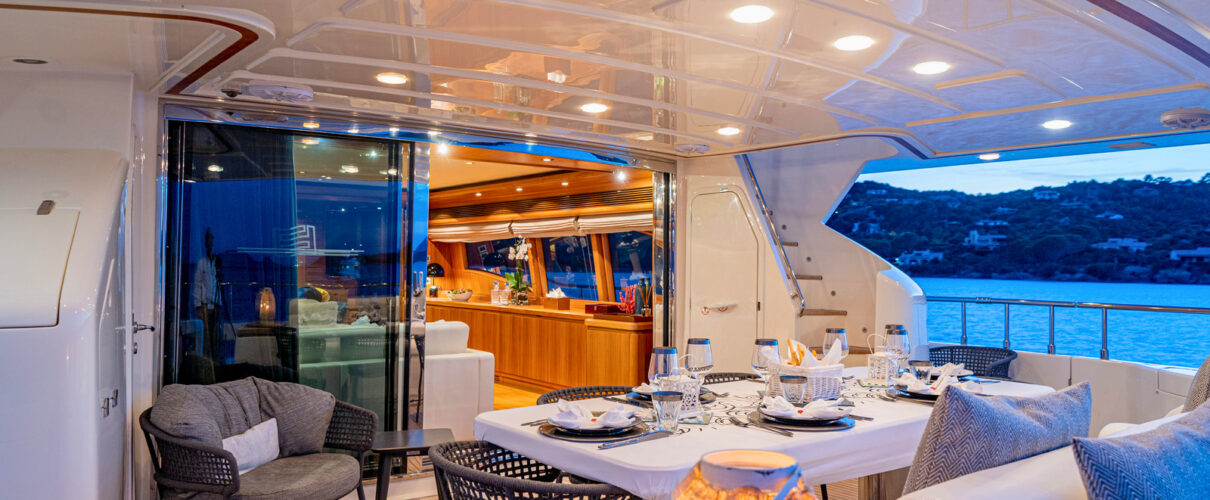 What is your definition of Sicily luxury tours?
You feel a luxury experience is something that simply makes you feel good, or special. It's what you deserve. It is total serenity, an unforgettable atmosphere, a legendary setting, unparalleled style and taste, the joy of comfort. You believe that self-indulgence exists in historical, cultural and outdoor settings, in the lifestyles of people and the ambiance of places.
All our curated Sicily luxury tours are carefully designed around you and your own concept of luxury, a perfect blend of your interests, needs, expectations, comfort elevated with the best Sicily can offer. Enjoying our private tours of Sicily you'll absorb the beauty of spectacular scenery, the touch of crisp linens, the taste of fresh herbs and ingredients, the intoxicating fragrance of fine wines.
The value of craftmanship in our private tours of Sicily
A solo trip, a trip of a lifetime with your soulmate, a family experience, a family reunion, an anniversary, looking for your family routes, a long weekend among girlfriends or your summer vacation with your best friends, a wine escape. Whatever your motivation, we'll design the perfect luxury tour of a lifetime, plan every single detail or leave you as much freedom as you like.
FAQ
How much does a Sicily luxury tour cost?
We do not sell pre-packaged luxury tours at fixed costs. Every tour is totally tailor-made therefore the cost will depend on your specific needs.
Why should I choose a private tour to visit Sicily?
Your private tour of Sicily will be designed according to your specific needs and expectations to experience the best of Sicily at your own pace and with freedom of your privacy.
How many days do I need for a private tour of Sicily?
Sicily is a huge island, namely the largest island in the Mediterranean. Distances matter and you will need a minimum of 8 to 10 days to make the best of it.
How do private luxury tours work?
Private luxury tours are designed to let you enjoy your journey at best, with luxury hotels at our preferred rates combined with one of our amazing driver/guide for the maximum comfort and privacy all along the tour.
Which services are included?
This depends on your needs and expectations. We always include accommodations such as luxury or boutique hotels, a fully authorised driver/guide, a luxury vehicle, entrance fees at monuments/site, specific experiences you would like to live in Sicily.
Which experiences are the best for a private tour of Sicily?
Winery tours and wine tastings, Mt Etna safari on board of our jeep and a luxury picnic, cooking classes, boat tours, private visits at noble palazzos are usually the highlights. But there are so many other experiences you can enjoy in Sicily, just tell us your desire and we will make it happen for you.
What is the best time to visit Sicily?
Spring, late summer and autumn are definitely the best periods to enjoy Sicily and skip the heat of the summertime.