Wedding venues in Sicily
Weddings in Sicily is our department fully dedicated to weddings.
We are Sicilians and we are Sicily enthusiast! Our passion and enthusiam come along with a deep knowledge of our land and professional skill acquired during more tha 10 years experience in designing and managing weddings, special events and family reunions. We like what we do!
At Weddings in Sicily we believe that Sicily is a unique destination and the perfect location for your wedding. We know most of the locations and every venues and we keep finding new ones. For that, we can handle services for any kind of need. We are on the spot!
From 2 to 2000 guest, our commitment is to design your wedding day with you and work hard to let your dreams come true and leave you memorable moments for the rest of your life!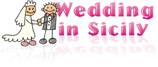 Experience the Romance!
Experience Weddings in Sicily!
experience, emotion, excellence