Catania unusual excursions & daily trips
Shore excursions:
You will meet your local guide directly at the port, holding a sign with your name.
Pick-up and drop-off at port.
Daily trips:
You will meet your local guide at your hotel.
Pick-up and drop-off at the hotel.
DELICIOUS CATANIA: CATANIA HISTORICAL MARKET & HOME CUISINE COOKING CLASS, full-day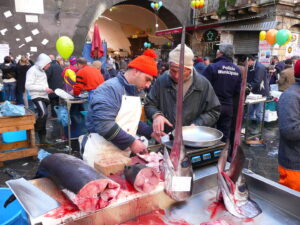 Catania is a dynamic and lively city with buildings and monuments that bear witness to its ancient and varied history. Thanks to its magnificent Baroque style historical centre, Catania is included in the Unesco World Heritage list. Piazza Duomo is the throbbing heart of the city. Here, you will enjoy a visit of the colorful and lively fish-market, located close to the Town Hall and the Cathedral dedicated to St Agatha, the patron Saint. You will be impressed by the everyday life of the city and amazed by the food and the local specialties.
Proceed to our cooking school, located in a village on the slopes of Mt Etna. You will be welcomed by Mamma Salva and her daughters Tiziana and Maria, two generations of women in the kitchen. Classes are led by the wonderful Mamma Salva , with Tiziana and Maria helping to translate. The lesson consists in the explanation of four regional courses: appetizer, first course, main course and side dish for a duration of 3 hours. The recipes change according to the season as we use only fresh ingredients. A printed menu of the lesson will be given to you so that you can better follow the recipes. During classes with Mamma Salva you'll learn how to turn out the recipes the women in her family have been making for generations – ricotta cheese tart, rice balls with meat sauce, pasta with tuna and almonds, stuffed squids, rice with wild fennel and anchovies.The atmosphere is friendly and everyone is treated like one of the family.
After lunch, a scenic drive along the Riviera of the Cyclops passing through the fishermen village of Acitrezza, linked to the myth of Ulysses and Polyphemus and to Acicastello, with the ruins of its Norman Castle overlooking the sea.
Book this excursion OR ask for a customized proposal info@isolabella.it
---
ETNA SAFARI & BOUTIQUE WINERY, full-day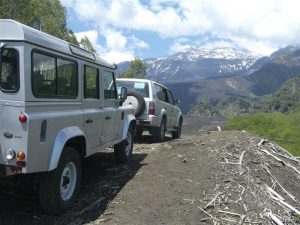 Mt Etna is the biggest active volcano in Europe currently standing 3,329 m (10,922 ft) high, though this varies with summit eruptions. Due to its history of recent activity and nearby population, Mount Etna has been designated a Decade Volcano by the United Nations.
Etna Safari is an exciting excursion out of the mass route along "the realm of Vulcan the god of fire" by jeep to live with an adventure attitude. The itinerary is a combination of traditional road and off-road tracks, with several interesting stops along the way:  the fishermen villages of Acicastello and Acitrezza, the lava village of Milo, an easy and safe speleological descent into a lava grotto, alight trekking along the extinct craters of Sartorius Mounts.
Finally, you will indulge in a light lunch at a local boutique winery with typical Sicilian rustic dishes and wine tasting. Located in the woods of the National Park and facing the sea of Taormina, this winery is one of the best models of Etna vineyards of high altitude: in an exclusive natural environment, at 900 meters above sea level, the vineyards lay on sunny and airy terracing that have a breathtaking panorama. At the highest altitudes the changes of temperature between night and day (which are considerable, up to 13-15°C in July and August) allow a phenol and aromatic ripening that is essential for the colour and taste of the red grapes and for the aroma of the white wines. Furthermore, the volcanic ground is very rich in mineral salts which supplies an equilibrated sugar content of the grapes and a proper relation between acids and alcohol. Their wines convey two different aspect of Sicilian oenology: the volcanic soil gives regional vines such us Nero d'Avola and Inzolia the perfect condition to ripen and to create soft, tannic sweet wins to be enjoyed young.  The distinctive environment of Mt Etna and from the use of autochthonous vines such as Nerello Mascalese, Nerello Cappuccio and Carricante derive fresh and elegant wines.
Book this excursion OR ask for a customized proposal info@isolabella.it
---
MT ETNA WINE ROAD, full-day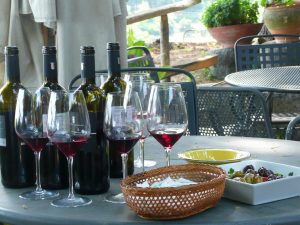 Mt Etna is definitely one of the most exciting wine destination worldwide.
The land around Mt Etna is a large area extending from the furthest slopes of the volcano to its peak. The cultivation grapevine has always played a fundamental role in the area. It dates back to several centuries ago and over the years has typical feature of this area, being a source of income to those inhabitants who have settled at the foothills of the volcano and symbolize the strong human determination to enhance a steep and wild soil which seems to be inapt to be exploited by man. The magnificent terracing realized with stone walls is only an example. These terraces are real works of art whose extraordinariness makes them rare in the world and admired both by Italian and foreign visitors.
The peculiar environment on Mt Etna that mixes the particular climate to the nature, altitude and exposure of the soil has as result the production of special wines.
Nerello Mascalese is the most prized grape in this area. It is late-ripening (harvested in mid-October) with large clusters, large berries, thin skins and is thought to have arrived from ancient Greece, brought to Italy along the same route followed by the mythical hero Odysseus.
NerelloCappuccio is another important Etna variety and some experts believe it is genetically linked to Carignan.
White wines are made primarily from indigenous Carricante and Catarratto.
The d.o.c. wines of the area are: Etna Rosso e Rosato (Red and Rosé Etna) with no less than 80% of Nerello Mascalese and 20% of Nerello Cappuccio or Mantellato; Etna Bianco (White Etna) with a 60% minimum of Carricante and 40% of Cataratto;  Etna Bianco Superiore (Superior White Etna), produced in the territory of the municipality of Milo. The volcano hail further Sicilian and even foreign vines which seem to find in this rich soil a perfect setting for monovarietal or blend wines: Inzolia, Nero d'Avola, Grillo, Frappato, Grecanico and Chardonnay, Merlot, Cabernet, Cabernet Sauvignon, Cabernet Franc, Mondeuse, Syrah, Petit Verdot.
No other wine region in Italy is as exciting as Mt. Etna right now. In just a few years, the number of winemakers on the volcano has doubled. All the important Sicilian producers today are incomplete without an Etna component.
You will visit three different quality boutique wineries located on the south-eastern flank of the volcano.
Book this excursion OR ask for a customized proposal info@isolabella.it
---
How to book & pay
RESERVATION & PAYMENT
Step 1:
Contact us by email info@isolabella.it to verify availability for the required excursion.
Please, specify: date, number of participants, at least one name of participants, special needs if any.
In case of shore excursion it is important to inform us about the arrival port and  the arrival and departure time of the cruise. This to verify if the excursion does suit your availability in terms of timing. If not, we will submit you a modified version of the itinerary you selected OR a different excursion.
Step 2:
Once the availability is verified, we will send you the confirmation of services together with a pro-forma invoice and way  of payment.
A deposit of 30% per person is required at the time of reservation to secure all services.
Final payment of the tour is due 60 days prior to departure.
You can by either by bank transfer, credit card (VISA and Mastercard only) or PayPal. Please, inform us which one you prefer.
Step 3:
When the final payment is received we will send the voucher and a travel news with final itinerary & program, name and contact info of guide, emergency numbers, etc…
CANCELLATION POLICY
Days Prior to Departure                     Cancellation Fees (per person)
60 or more days                                   30% of the Tour cost
59 – 45 days                                         50% of the Tour cost
44 – 15 days                                         70% of the Tour cost
14 – 7 days                                           90% of the Tour cost
7 – 0 days                                             100% of the Tour cost
Remark: owing to the continuous rise in cost for fuel and local taxes, all rates must be reconfirmed.
---
10 important things to know before booking
1. Our shore excursions are private and customized using a professional driver and a professional local guide. They will escort you all around according to the program.
2. Our staff is professional, experienced, competent, helpful, nice and provided with all license required by the Italian laws.
3. Our guides are fully licensed and allowed to enter the monuments and archaeological sites, as required by Italian Rules. We believe a local guide is very important for the success of the excursion: he/she will introduce you correctly to the site, tells you the history as well as anecdotes, deliver you the right feeling and unforgettable images of the trip.
4. In case you do not require a local guide, we will be happy to reduce the cost accordingly.
5. Our vehicles are deluxe ones:
2 to 3 people: Mercedes E, Audi 6, Mercedes Viano, all Air Conditioned or similar vehicles
4 to 8 people: Minivan Mercedes Sprinter maximum 8 seats, Air Conditioned or similar vehicles.
6. In case of shore excursions, upon arrival the port, you will find the guide holding a sign with your name.
7. Length: a Half Day excursion means maximum 5 hours from h 8:00AM to h 1:00PM. A Full Day excursion means maximum 8 hours from h 8:00AM to h 4:00PM
8. Admission fees are usually not included in our rates. Usually, admission fees are around Euros 8,00 per person payable directly on the spot. If you would like to include it in the excursion, we will be happy to add the cost accordingly and buy for you.
If you are over 65 or under 18 years old and you have EU or Commonwealth Passport, the admission fees are free of charge for you showing your document (or copy of your document) on the spot.
9. Meals are usually not inclusive in the price but, on request, we can suggest and book a good restaurant or a local trattoria for you and your family or friends. When included, meals are mentioned in "rate includes".
10. We would be very grateful if you might considerer tipping (out of appreciation) based on the efficiency and service you receive. Gratuities in restaurants are never included in the bill. Please, remember that cover charge is not a tip. If paying with credit cards, please pay your tip separately in cash to the waiter and this should be around 10% of the total bill.
Last but not least:
When comparing our rates with our competitors' ones please, take into consideration not only the price but the quality of the service: for a fair comparison all services (staff & vehicles) must be similar. Be sure about what type of vehicle you are going to have. We reserve no surprise! Luxury services are guaranteed! What is the difference between a "Licensed Tourist Guide" and a "Driver Escort and Driver Guide". It is import you know:
- Driver Escorts are licensed chauffeurs able to drive you in the main Sicilian highlights providing basic tourist information. They are knowledgeable, they can introduce you to gastronomy, wineries, traditions, Sicilian legends, teaching you some phrases of Sicilian dialect but they are not licensed guide and cannot escort you into monuments or archaeological sites (they can be heavily fined for this).
- Driver Guides are licensed chauffeurs who are also licensed guides according to the Italian and Sicilian Laws about Tourism and tourist services. Please, distrust all who introduce themselves saying that a driver escort is the same of a driver guide because it is not so. We suggest you to ask for their license as official guides. If they do not provide you so, they are out of law.
- Licensed Tourist Guides are the only professionals (provided with a Regional license) permitted to conduct visits and tours in all sites and museums within a city. To become a Licensed Tourist Guide in Sicily candidates must pass an examination given by the local tourist authorities to assess and test their knowledge of the cisty in terms of its history and geography, its art and architecture, its museums and art galleries, churches, its environs and cultural feature. As part of the requirements, candidates must also prove their knowledge of each of the foreign languages they applied for with oral and written tests.
Send to a friend
Enquiry