The Sicilian Flag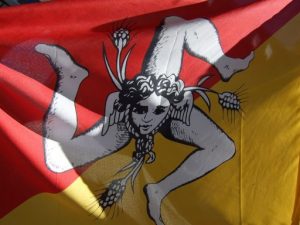 Trinacria is the island's symbol. It is a Gorgon's head whose hair consists of braded snakes and ears of wheat, and it symbolizes Sicily's fertility. Three legs bent at the knee radiate from its head.
Gorgon was the name given to the mythological daughters of Forco and Ceto, two gods of the sea usually described with wild boar tusks, bronze hands, golden wings and snakes wrapped around their head and waist. According to Hesiod, they were Medusa (the Gorgon for antonomasia), Stheno (the mighty) and Euryale (the far-springer). The Gorgons had the power to turn to stone anyone who gazed at them, and lived with Atlante's daughters, the Hesperydes, on a blissful island in a remote western corner of the world.
The three legs represent the extreme points (triskeles means three corners) of Sicily, Capo Peloro (also called Punta del Faro) in Messina district, Capo Passero, a few kilometres from Syracuse, and Capo Lilibeo (also called Capo Boeo), near Marsala. Number three is also related to the morphology of the island, with three promontories and three vertex (from Latin triquetra and Greek treis akra ).
Send to a friend
Enquiry